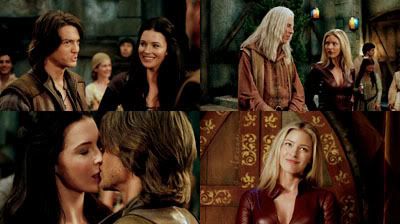 2x16 - Desecrated / Picspam





This picspam is late, and I'm sorry, but real life has been chaotic...work, hangovers, boyfriend wanting to clear up the TiVo (4 episodes of SVU and 6 episodes of Fringe in 3 days!), being sick, getting a new kitty, and a bunch of other stuff.

Disclaimer:
- Breathlessness may occur when watching this episode. Or viewing caps of this episode. Or thinking about this episode.
- Management is not responsible from sugar overdose. If you're diabetic, stay away from this episode, and Kahlan/Bridget's SMILES.
- Also not liable for DEATH FROM THE CUTE. It may occur several times.
- Your amusement is not guaranteed.
- BYOI - Bring Your Own Ice.






2x16 - Desecrated


Richard went to gather firewood while Cara.... cooked? o.O
Well, it's the thought that counts, right? And apparently Cara's thought is to torture them with her food.



ASHDJHAKHK.
She's been on screen for two seconds and I'm already speechless.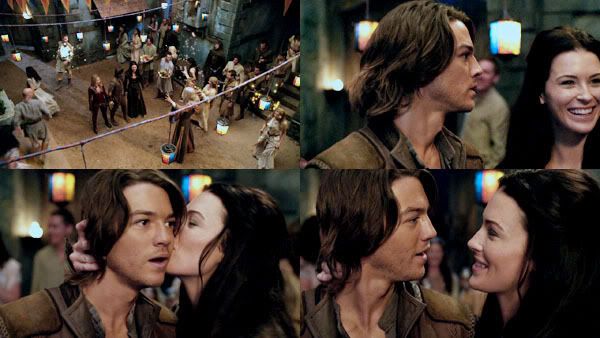 OH. MY. GOD.
How can they be so cute? The entire plot for this episode is so contrived, but WHO CARES? IT'S AWESOME. MORE NOW, PLEASE.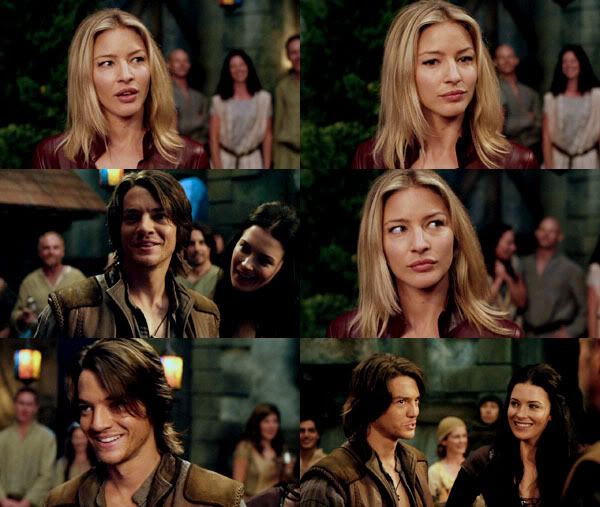 ROFLMAO! Cara, don't look now, but you have some ~feelings showing under your sarcasm.
[I still love her attempts at looking like she doesn't care. The final scene is a nice bookend to this scene]
AND OMG IS BRIDGET TRYING TO KILL US WITH THAT SMILE?



The Duke's name is Anders, and he says he's very pleased to be hosting the birthday party for the Seeker...
right after he mentions the massacre at Brennidon :\ "Let's bring up mass infanticide - okay, done, now be festive! Happy birthday!"



*DIES OF THE CUTE*




Kahlan's so eager to dance. It's adorbs.



"Craig and I learned the dance the morning we shot it! It was really fun." (in reply to @legendoftheseek)
It looks fun. And by fun, I mean adorable to infinity (and beyond).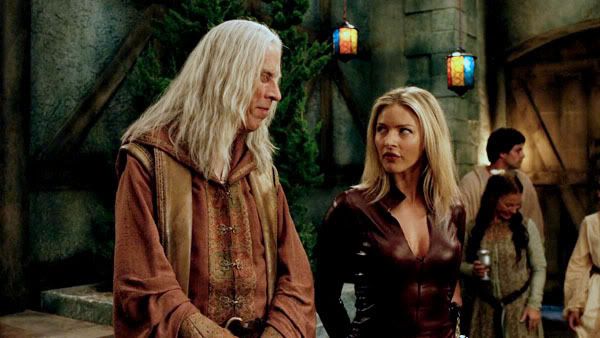 Cara: I'd rather fight Gars.
I LOVE HER. CAN I KEEP HER?



Look at her grip on his arm!
And his intense gazing, and the ~private moment with all the people around the cockblocking our view. IT'S PERFECTION.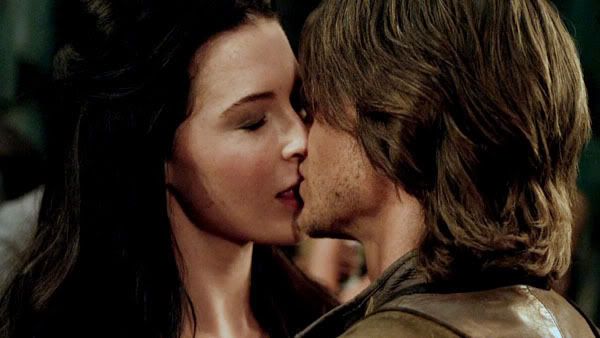 GUH.
HOT DAMN.
CROTCH ICING SERVICES FOR READERS AVAILABLE UPON REQUEST.



Yes, because what could go wrong with a magic show?
That fucking compass needs to have a taser setting for "gtfo" situations.
Except omg omg omg look at how happy Richard is! ♥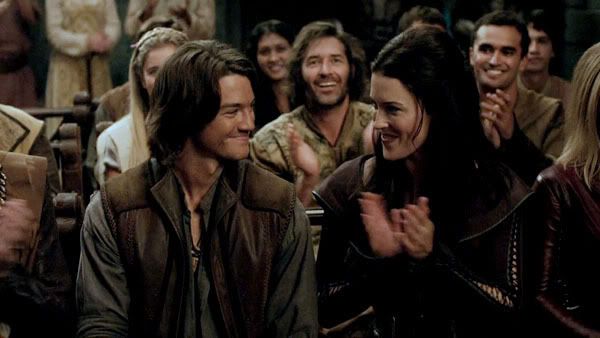 PLEASE TELL ME RICHARD GOT HEAD FOR HIS BIRTHDAY.
Uh... I like their gazing.



I'm not sure if Cara's "not amused" face is more or less entertaining than Zedd's "weeeee!" childlike face.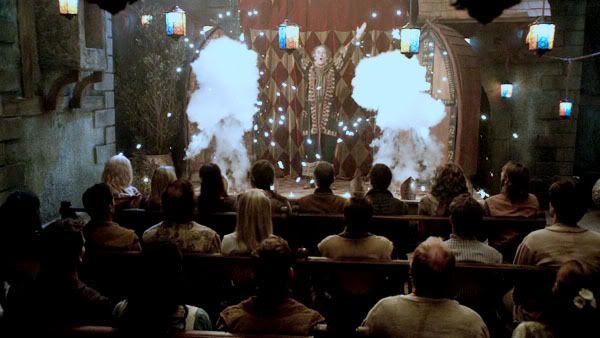 Nice trick. Now can you make Richard appear inside Kahlan?



I love it when Kahlan has to teach Cara to be ~human. So adorbs.
Plus you know Cara totally wants to be part of the fun, she's just too proud. And we love her for it.



I had to .gif this because Tab going up those stairs in that outfit?
Made me giggle for 10 min straight.



OMG! Awww and heee and guh!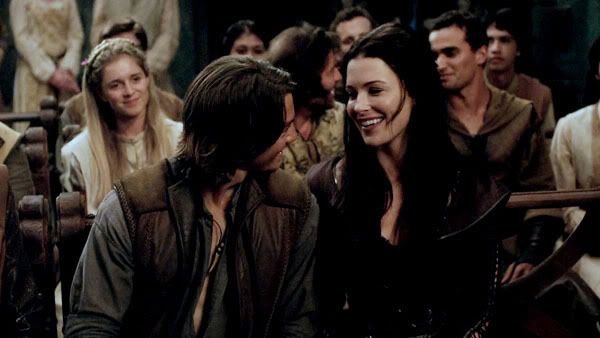 NOOOOO. DON'T GO, KAHLAN! Stay there and make babies... or at least make out some more.
Come on, Richard needs one good birthday, or he's gonna be worse than Buffy.



What happened to keeping Kahlan alive?! THE FATE OF THE WORLD DEPENDS ON IT. Don't let her out of your sight, damn it.



This scene was epic. Richard pulling out his sword was sexy as hell.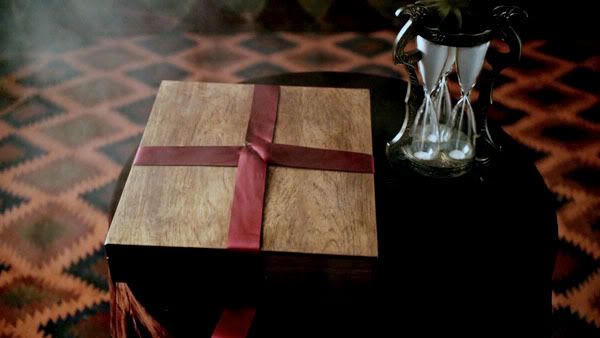 I just want to know what else Richard got for his birthday...other than head.

The hourglass is beautifully designed... this show never ceases to amaze me. But why three?
I mean, the sand goes down at the same rate, regardless of whether there's a second or third hourglass next to it.
You know what? Fuck it. It looks awesome, so I'll shut up now.



Hmm, is this a team-building exercise? Too bad there's no furniture (or bodies) to pile up.
X-FILES REFERECE FOR
relaxjolene.



No one should be that gorgeous.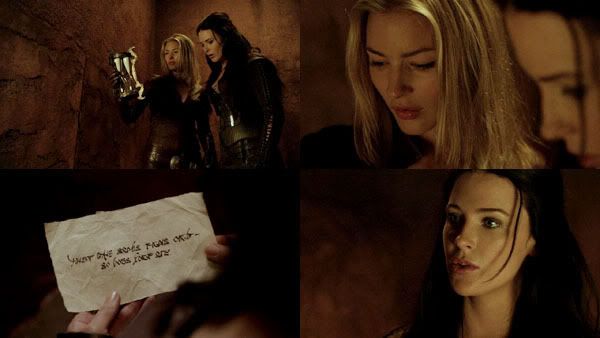 Something blah blah about air... I'm distracted by that errant strand of hair. Guh.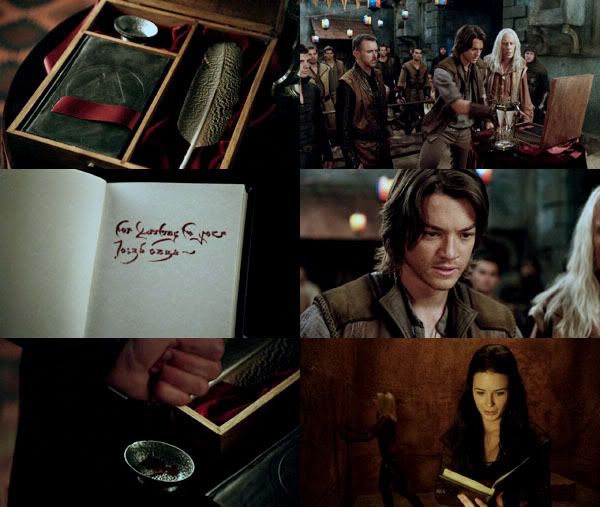 OMG A JOURNEY BOOK!!!
[that was my first reaction. the second was:
virkatjol needs to write a fic where they're cybering via a journey book.]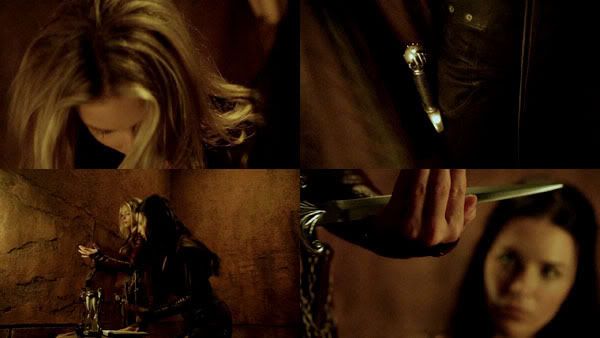 Cara, you need to start carrying your own sharp objects. Your tongue doesn't count. Except for... ~stuff.
Also, please don't stop being a badass. ILU.



Ooooh, plot! But this is a picspam, not a plotspam. So... stare at the pretty (meaning, ignore the top left corner pic).



Heeeeee! Entrails. Richard recognizes Cara's ~style.



Necropolis!



Gratuitous Richard cap for
virkatjol.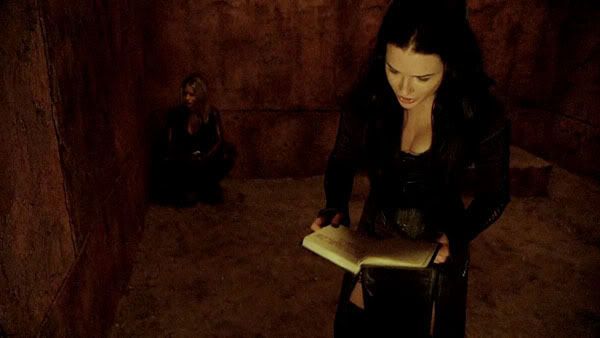 Uh... something going on with something in the journey book, but I'm distracted. *drools*



Oh right, markings! They're looking for markings for Richard.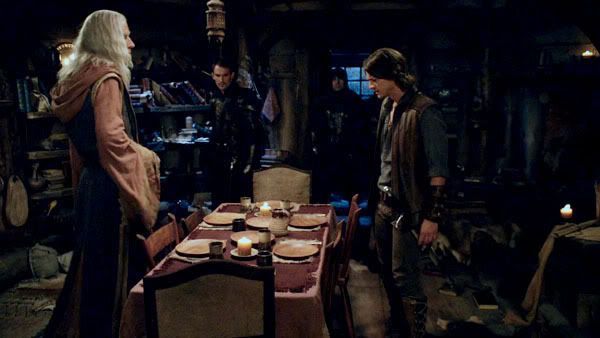 This part made me sad for the magician dude. But he cockblocked R/K funtiems, so he can burn in hell.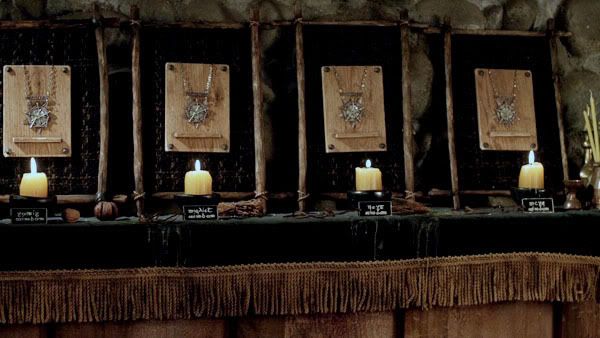 See? CANDLES. Evidence of cockblocking.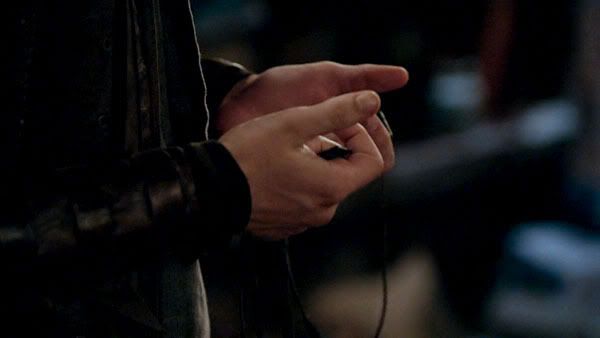 Oooh, more plot.



Kahlan's so frantic, and Cara's face here just about kills me. ♥
When she gets her "I don't want to disappoint Lord Rahl and the Mother Confessor" face,
it reminds me of the books, and I get all teary-eyed.



OMGTWOJOURNEYBOOKS! I figured something had to be up with that, but it was still epic.



Zedd just needs to stop using his ~powerful magic to open tombs/crypts/mausoleums/whatever. :\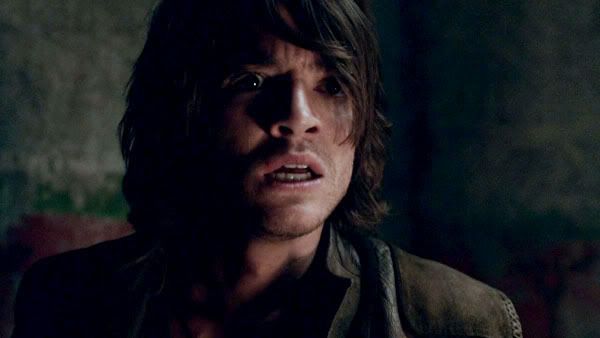 That hair is really growing on me. Not as much as it's growing on him, but... still.




They're getting sweaty. I'm going to run out of ice :\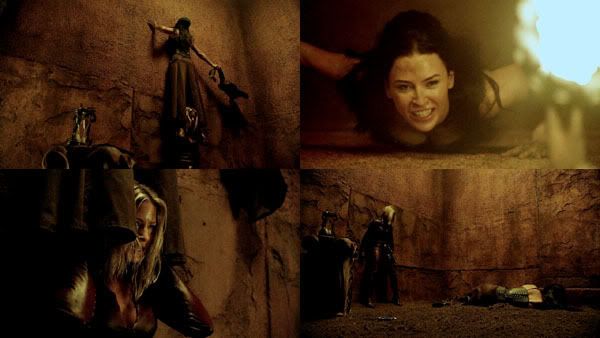 WHAT IF HER JACKET HAD CAUGHT ON FIRE?! NOOOOOOOOOOO!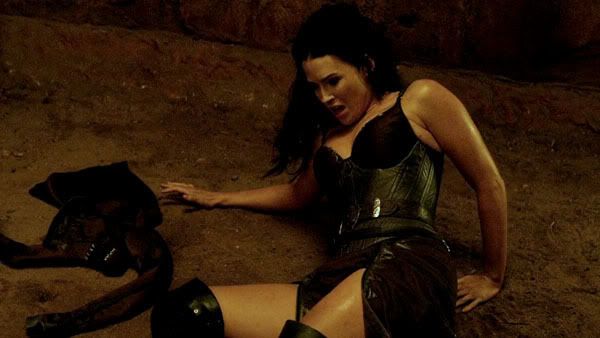 Uh... nevermind, I think we could live without that jacket.



BURN THE JACKET NOW. I NEVER WANT TO SEE IT AGAIN.
GUH.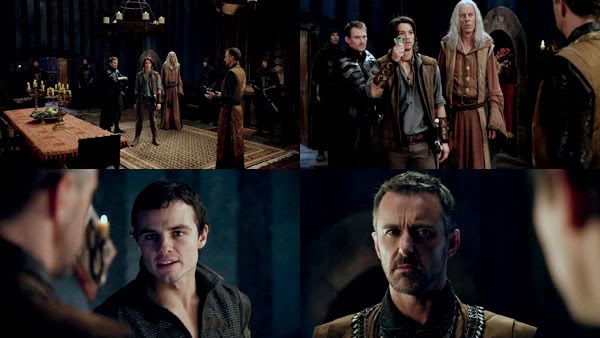 Plot. Awesome plot. I kept singing CCR's Fortunate Son during this scene...


Look at my horse, my horse is amazing!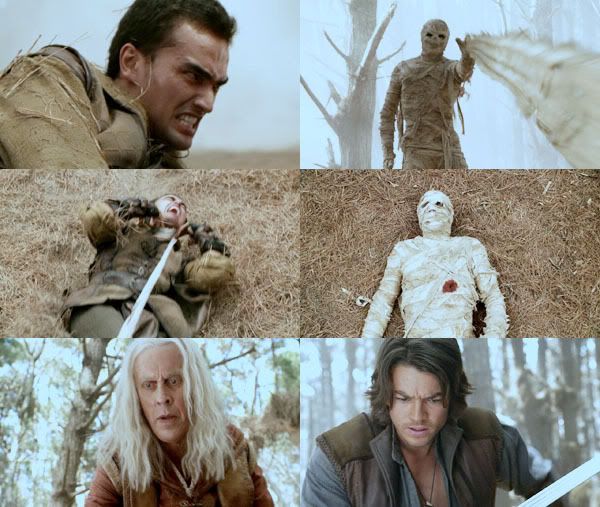 Not exactly the best birthday gift ever, but... at least he gets to unwrap it.



Nooooo, Zedd! Damn it.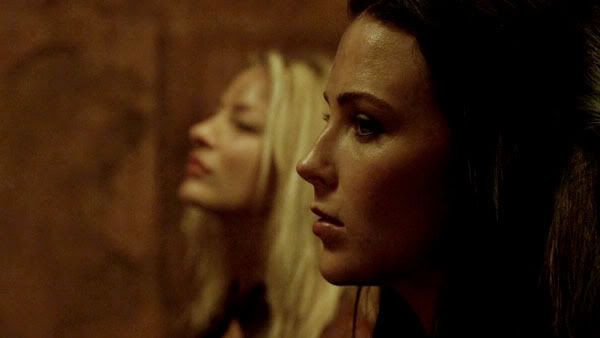 LIP SCAR! GUH!



Her eyes! They have watery stuff in them. So do mine rn.



YOU TWO ARE KILLING ME.



If anyone finds what's left of my heterosexuality, please don't step on it...



Never play Tug O' War with Mummies Nygaax... they don't play fair.



Uh... plotty stuff. Dead magician.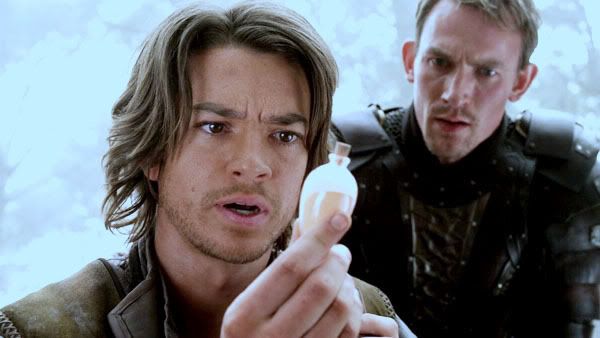 Richard finds some more Floo Powder.



I solemnly swear that I am up to no good...


Cara: There is no one a Mord'Sith should hate more than a Confessor. I was trained to hate you... but I don't.
And I don't want to die without you knowing that I consider you to be my friend.
Kahlan: I think of you as a friend too.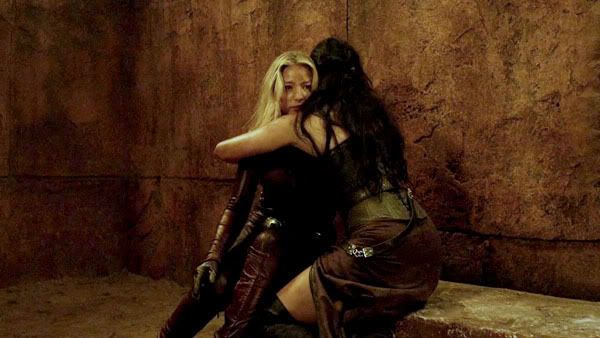 BRB CRYING.



Oh Cara!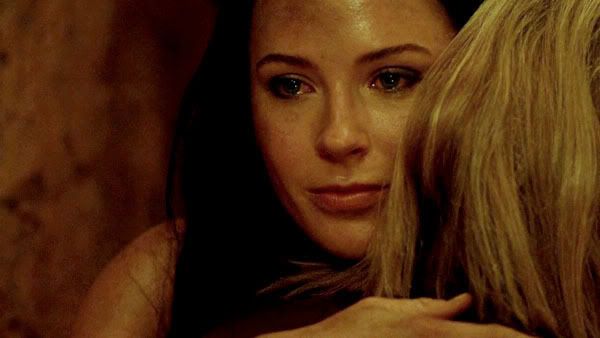 Powerful emotional scene is powerful. *sniffs*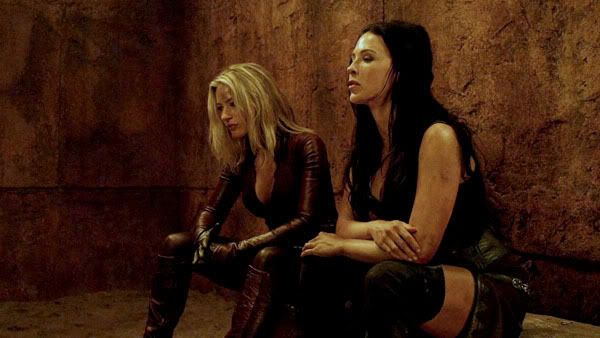 YES! Richard will come for you two. Kahlan's faith in him is.... unwavering.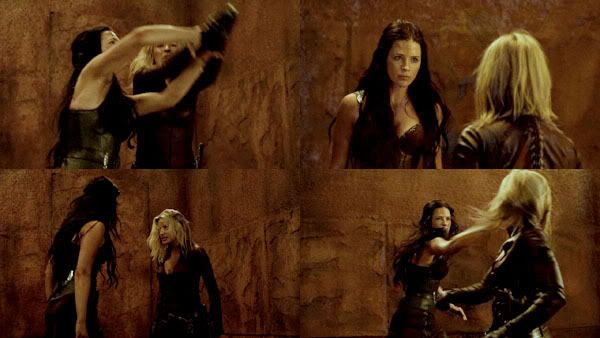 DAMN IT, CARA!
I LOVE HER. *SNIFFS*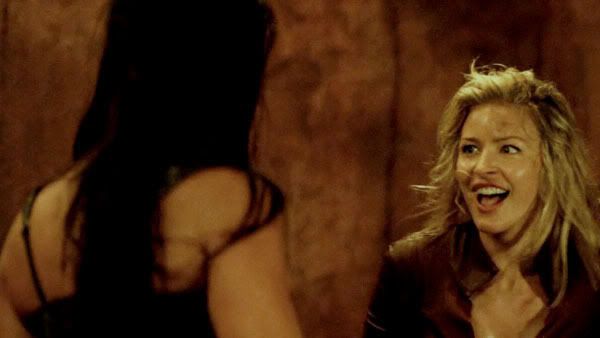 Hee, Tab! ♥ ♥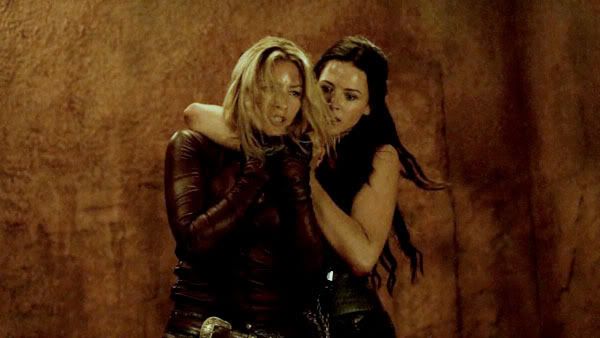 I swear I didn't mean for this cap to be 069.jpg :\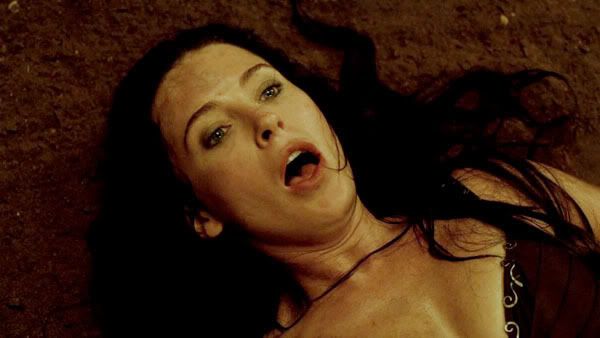 GUH!


Kahlan felt tears running down her face. She didn't want Cara to die. She didn't know why she should feel so much for his woman, except perhaps because no one else did. The soldiers wouldn't even come down to see why she had stopped screaming. She could have choked to death on her own vomit. Something as simple as that, not magic, could have killed her because they were afraid, or perhaps because no one cared if she died.

"Hold on, Cari. I care." She smoothed the Mord-Sith's hair back from her clammy forehead. "I care. We want you to live."

Kahlan's euphoria from the lack of air was more than a little cute, hee!



We're getting so spoiled with so many K/R kisses! ♥
MOAR PLZ, NEVER STOP.



It's a Mickey Mouse padlock! (for
pickgems)



I'm sick and tired of these people who are all "WOO HOO! SEEKER AND THE MOTHER CONFESSOR! We love you two!"
and then they completely ignore everything K & R tell them. HNNNNNG!



Bridget's a fucking pro at those kicks now.
*stares*



ASDHAJHKLJDHKSLH.



It's nice Richard gets to explain everything to Cara before he's almost knocked out.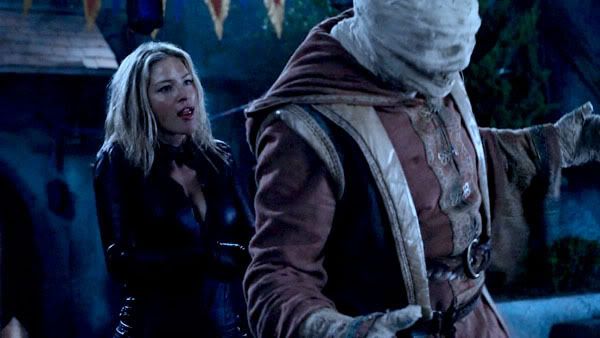 I'd make a surprise butt!sex joke here, but even I would be scarred by it.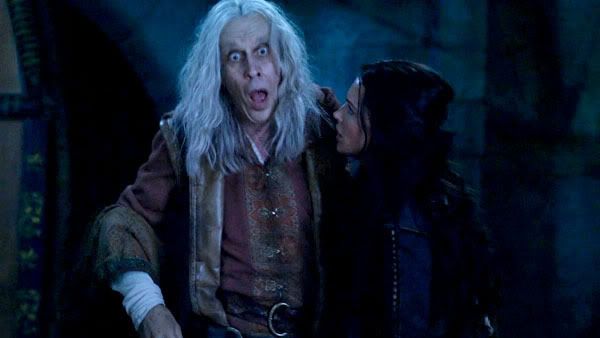 Picspammer's First Rule, yo!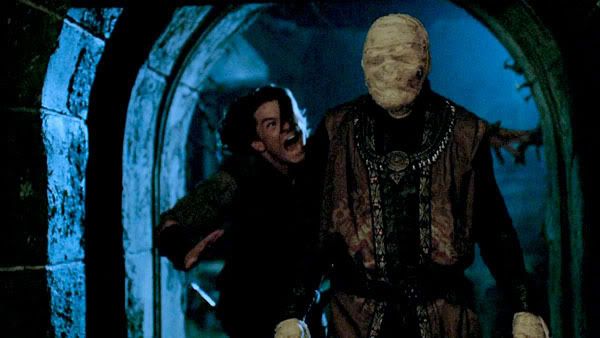 *TACKLEHUGS*MINUS THE HUGS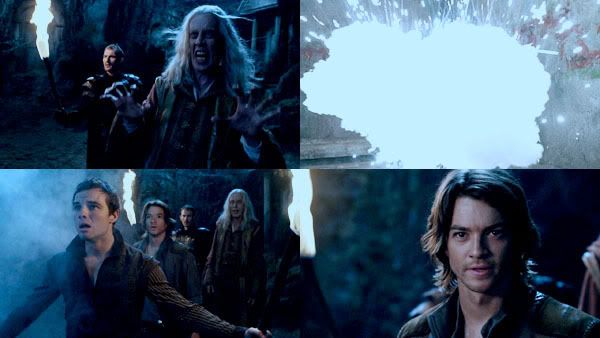 Flooooo powder!




I SHIP IT.
Fic now. Please. Except not really.



Remember that episode of The Nanny, when Mr. Sheffield and Ms. Fine are on their way to Paris and he says ILU and then he takes it back?



ADORBS.



Awww! ♥ ♥ ♥
I really hope we get to see Richard's next birthday.
And that it involves birthday sex.



See you next week, peeps!








Pimps:

MY (RANDOM) SCREENCAP ARCHIVE. Yes, it's random, but at least the caps are all HQ from the .mkv files, so ♥




Previous Picspams:

2x08 - Light | 2x09 - Dark | 2x10 - Perdition Part 1 | 2x10 - Perdition Part 2
2x11 - Torn Part 1 | 2x11 - Torn Part 2 | 2x12 - Hunger
Princess Part 1 | Princess Part 2 | 2x14 - Bound | 2x15 - Creator
Season 2 So Far, Part 1